1. 3D PRINTED MEMORABILIA: Heritage & Personalised
Vizara Technologies uses additive manufacturing, or 3D printing, to create unique memorabilia that comes in the form of readymade heritage artefacts that are integrated with an AR app, as well as personalised memorabilia that is unique. The products are available for purchase on the website, on amazon, and on GEM. Vizara has also undertaken bulk projects for government related gifting for particular events. Check out the products here.
True-scale replicas of Indian Heritage Monuments:
The ViRaasat range gifts, that include The Taj Mahal, The Rani Ki Vav, The Stone Chariot, Hampi and others, are probably the only true-scale replicas of Indian monuments and artefacts that are available in the market
They are created using cutting-edge technologies of laser-scanning, 3D modelling and 3D printing which leave no margin of deviation from the original structure with all its intricate details intact. This makes them truly exclusive collectible items for every heritage enthusiast.
Each replica comes with an integrated AR app that includes a guided tour and AR model of the monument
The 3D printed models can be personalised by adding company branding, logo, or a tagline. Drop a Query.
Personalised & Heritage Lithophanes
Lithophane frames can only be created using 3D printing technology. It is essentially an etched or moulded artwork in very thin translucent porcelain or plastic that can be seen clearly only when back lit with a light source.

Ready lithophane designs include the Taj Mahal, the Dandi March, Ramayana Panels from the Hazarama Temple among others

Customers can also upload an image and get a personalized lithophane for themselves. Know More.
The 3D statues were first created for the Gandhi@150 Celebration that took place in 2020, and are now available for purchase by the public. The statues come with an integrated AR app that allows the user to learn about Gandhi ji's journey, artefacts and more.
Personalised Stone Chariot Reconstructed Top with Branding for a Pvt Company
3D Printed True Scale replica of the Stone Chariot, Hampi for gifting
————————————
2. 3D PRINTED BULK GIFTING FOR GANDHI@150
Vizara was commissioned to create tech based exhibits, 360 VR dome movies, 3D printed memorabilia, and an AR app for the celebration of Gandhi@150 in 2020.
Each outcome highlighted the life, teachings, and journey of Mahatma Gandhi.
The 3D printed Gandhi statue was printed in bulk for gifting by the government. The statue is a 3D printed replica of Mahatma Gandhi in a walking posture. The replica is made using a 3D scan model (Source: Mahatma Gandhi by jvouillon is licensed under CC Attribution: skfb.ly./BvSy) of the Statue of Mahatma Gandhi located at the entrance of the Canadian Museum for Human Rights in Winnipeg, Manitoba. The original sculpture was created by renowned Indian sculptor Ram Vanji Sutar.
This sculpture exemplifies Mahatma Gandhi's ideals of peace, justice, simplicity, minimalism and relentless action-oriented determination to achieve his goals – one of them that of an independent India. T
he replica is 3D printed in PLA, a biodegradable plastic material, using additive manufacturing.
This replica comes with an Augmented Reality app called Digital Gandhi Akar PrakAR. Scan the accompanied QR code or download the app from Play Store or App Store. Start the app and point the camera of the handheld device (phone or tablet) at the Gandhi statue.
The Hindi phrase Akar Prakar means "Dimensions", and this app provides an insight into the different dimensions of Mahatma Gandhi's life and teachings.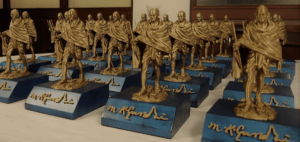 3D Printed Gandhi Memorabilia for Gifting integrated with an AR App
Demo of the integrated AR App
————————————
3. 360 VR TOUR OF A FACILITY – A Prototype
We created a 360 VR walkthrough of a building as a prototype for a larger idea – a Facility VR App
What would be the purpose of creating a 360 VR tour of a Facility?
Allow potential customers, clients, or visitors an unique experience

into the facility/building prior to their in-person visit

Engage with customers and gain their trust

through remote showcases in exhibitions, fairs, or through digital marketing

Enhance real estate website & potentially hook leads

by embedding a 360 tour

Provide access to a

global client base
What should the app be able to do:
Create a real 360 degree interactive VR tour of a building
The App would have 360 degree videos and images of the space

There would be 3 modes in which the app would work:

The Facility Tour on the App will have the below options:

A curated / guided tour

such as, if a guide were to take you around the space, OR

Highlighted hotspots in 360 view that would trigger information on demand – text, audio-visual, real video or simulation.
An interactive tour

wherein the user can explore the facility in 360 degree as per the User's choice, i.e., choose the room, choose their own path
Demo Video for a 360 VR Tour of a Facility
———————————–
4. SMART 3D ADVERTISING
Coming soon.r